The White House Verified account @WhiteHouse Jun 30
The moment President Trump meets Chairman Kim at the DMZ and becomes the first sitting President to enter North Korea: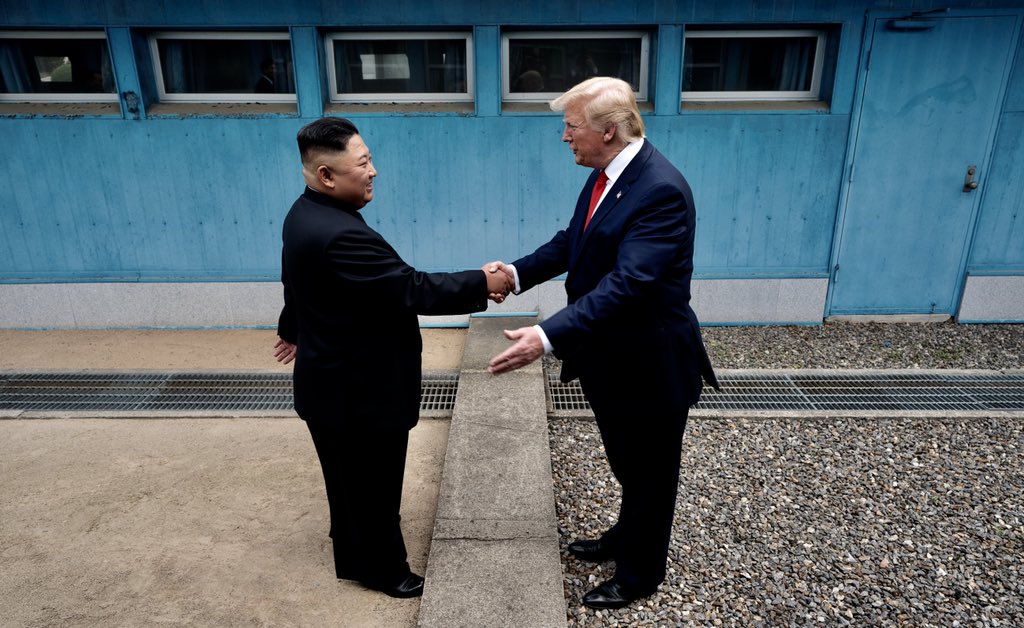 Remarks by President Trump, Chairman Kim Jong Un, and President Moon in Greeting at the Korean Demilitarized Zone
Outside the Inter-Korean House of Freedom
Panmunjom
Q Chairman Kim, how do you feel?
CHAIRMAN KIM:
(As interpreted.) President Trump has just walked across the demarcation line. That made him the first U.S. President to visit our country.
I believe just looking at this action, this is an expression of his willingness to eliminate all the unfortunate past and open a new future.
PRESIDENT TRUMP:
I just want to say that this is my honor. I didn't really expect it. We were in Japan for the G20. We came over and I said, "Hey, I'm over here. I want to call up Chairman Kim." And we got to meet. And stepping across that line was a great honor. A lot of progress has been made. A lot of friendships have been made. And this has been in particular a great friendship. So I just want to thank you. That was very quick notice, and I want to thank you.
So we're going to go inside. We're going to talk for a little while about different things. And a lot of really positive things are happening, and I'm glad you could be here to see it. But tremendous positivity. Really great things are happening and — in a lot of places. But we met and we liked each other from day one, and that was very important.
Thank you, everybody. Thank you.
Q Would you invite him to the U.S.?
PRESIDENT TRUMP:
I would invite him right now — to the White House. Absolutely.
(President Trump and Chairman Kim continue a private conversation with President Moon.)
PRESIDENT MOON:
(As interpreted.) I'd really like to pay my tribute to the efforts of you two. You have really made a historic moment today.
PRESIDENT TRUMP:
Thank you. I think it is. And it's a great day for a lot of people. It's a great day, really, for the world, if you think about it. Beyond North Korea, South Korea, it's a great day for the world and it's an honor for me to be here. Thank you both very much.
PRESIDENT MOON:
(As interpreted.) The two leaders have just presented such a big hope to the 80,000 Korean people as well as to the whole world. So I do look forward to great progress being made in your subsequent dialogue.
PRESIDENT TRUMP:
Well, I want to thank everybody. Thank you all for being here.
I have to say that when I first became President of the United States, there was great conflict in this area. Great, great conflict. And now we have just the opposite. And it's my honor. And it's the Chairman's honor, I can say. We work well together. And, Mr. President, thank you.
CHAIRMAN KIM:
(As interpreted.) I would like to also take this opportunity to express my gratitude for all your assistance in having such a good opportunity.
PRESIDENT TRUMP:
Thank you very much. Thank you very much. Thank you all.
"In my opinion the President has done more good on the Korean issue in the last year and a half than President Obama did in eight years. If you look at the strides they made during the Obama years, which advocated strategic patience-they stuck their head in the sand. This is

why President Trump has to deal with North Korea the way it is now. He had to figure out what to do with the Korea mess. I think this is why the President deserves a lot of credit." Harry Kazianis, Center for the National Interest.