Rep. Paul Gosar — US Representative for Arizona District 4
Today, I voted to prevent the course of history from repeating itself and opposed one of the largest amnesty bills in our country's history.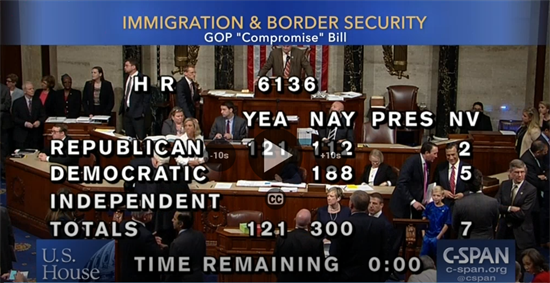 The root of the problem with the Border Security and Immigration Reform Act, better known as the 'compromise' bill, is the same as last week's bill -- it grants amnesty. We cannot compromise our country's future by creating a special path for those not willing to wait in line. Under this bill, it is estimated that millions of illegal a

liens would become eligible for legal status. Not only does this incentive more illegal immigration, it fails to acknowledge our past mistakes.
As I stated last week, the 1986 amnesty bill aimed to put a stop to illegal immigration once and for all, but unfortunately it had the opposite result. Instead, amnesty was granted and the immigration enforcement never happened. Since the signing of Immigration Reform and Control Act, the total number of unauthorized immigration has nearly doubled.
We must learn from our past in order to stop ourselves from committing the same mistakes.
I will continue to stand strong and fight to secure our borders and uphold the rule of law. The only pathway to achieving the American dream is by abiding by the laws of our sovereign nation. No amnesty. The End.
Background:
Last week, U.S. Representative Paul Gosar D.D.S (AZ-04) voted against the the Securing America's Future Act (H.R. 4760). See his full statement
HERE
.