Netanyahu Reveals Secret Iran Warhead Project...
100,000 stolen files...
Netanyahu announced, "Iran lied. Big time. After signing the nuclear deal in 2015, Iran intensified its efforts to hide its secret nuclear files." Netanyahu said that a dilapidated warehouse contained Iran's nuclear files: "55,000 pages, another 55,000 files on 188 CDs." The files included incriminating documents, charts, and presentations.
Docs 'conclusively prove' nukes sought...
Netanyahu says Iran's secret nuclear files reveal that Iran's nuclear program was designed to "test and build nuclear weapons."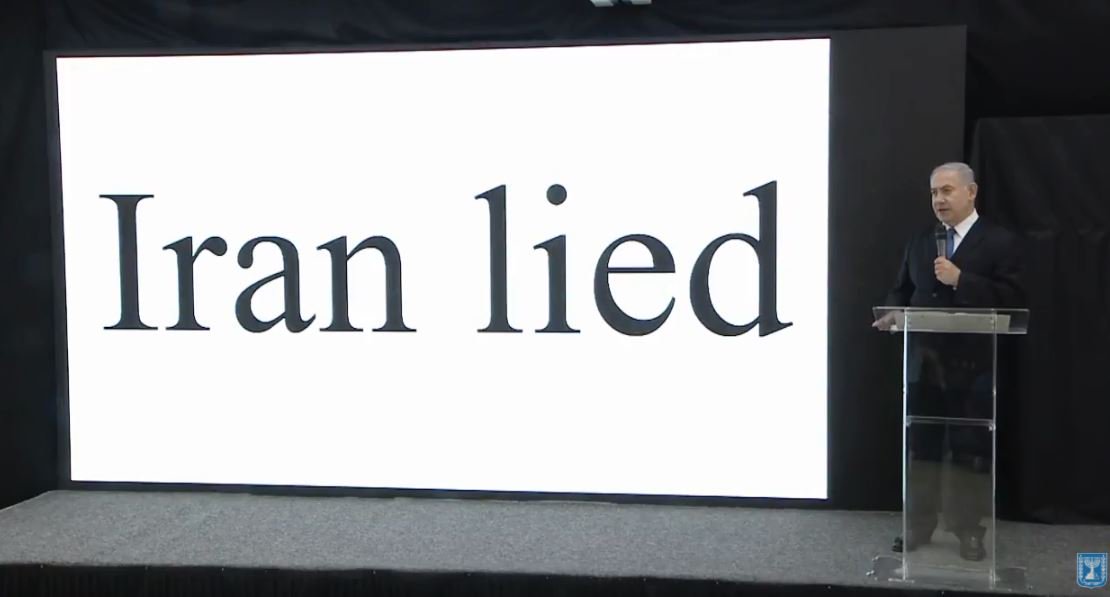 U.S. officials and congressional insiders view the disclosure Monday by Israel of Iran's ongoing efforts to develop a nuclear weapon as game over for the landmark nuclear deal, telling the

Washington Free Beacon

that new evidence of Iran's top secret nuclear workings makes it virtually impossible for President Donald Trump to remain in the agreement.
Senior Trump administration officials confirmed the findings as authentic and praised Israeli Prime Minister Benjamin Netanyahu's for disclosing thousands of secret documents proving Iran lied about its past work on a nuclear warhead, telling the

Free Beacon

the revelation was a "powerful presentation" by Israel outlining why the Iran deal must be fixed or killed.
Israeli defense officials have told their American and Russian counterparts that if Iranian-backed forces attack

Israel

from inside

Syria

,

Jerusalem

will not hold back from retaliating with direct strikes against

Tehran

or other targets in

Iran

.
The officials delivered the message ahead of a national security statement expected Monday from Israeli Prime Minister Benjamin Netanyahu in response to Iranian threats to hit

Israel

after recent strikes on

Tehran

-backed assets in

Syria

, according to a report by Haaretz, an Israeli newspaper.
Israel hopes Jonathan Pollard, an American spy who served 30 years in prison for selling secrets to the Jewish state, will be allowed to emigrate there as the US moves its embassy to Jerusalem, a minister said on Monday.
"I hope that President Donald Trump will offer another gift to Israelis by allowing Jonathan Pollard to come and celebrate the opening of the American embassy in Jerusalem," Israel's Transport and Intelligence Minister Yisrael Katz told army radio.
"I hope that President Trump will agree to that request with Jonathan Pollard having spent so many years in prison."