The National Hurricane Center
is issuing advisories on Hurricane Irma, located north of the Dominican Republic, on Hurricane Jose,located over the central Atlantic Ocean, and Hurricane Katia,located over the southwestern Gulf of Mexico.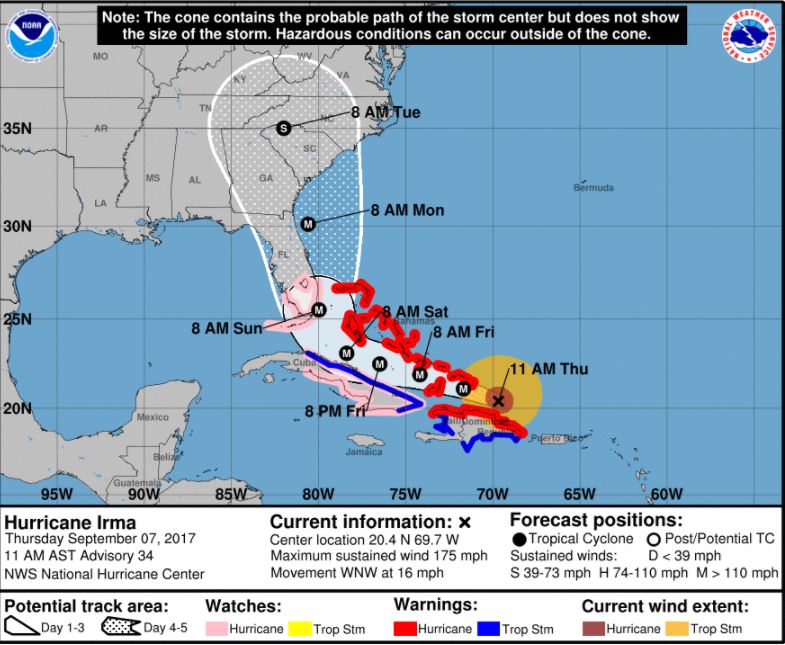 Miami Beach Mayor Says Residents Must Leave: 'This Is A Nuclear Hurricane'...
OFFICIAL WARNINGS ISSUED; UP TO 10-FT STORM SURGE PALM BEACH, FT LAUDERDALE... MORE
'No Buildings We Can Guarantee To Keep People Safe'...
Storm tightens aim on Florida...
Could impact EVERY major city...
FEMA Chief: Will be 'devastating'...
Thousands of troops deployed...
Supplies cleaned out...
Gas Stations Run Dry...
Plywood dispute turns bloody...
Sheriff threatens to arrest fugitives at shelters...
Cranes Could Collapse...
NUKE PLANTS IN PATH...
Airlines scramble, roads fill in rush to get out...
Flight that raced the hurricane...