Also Gives Military a Raise and take care of veterans. Now it's up to the senate to put on POTUS desk to be signed.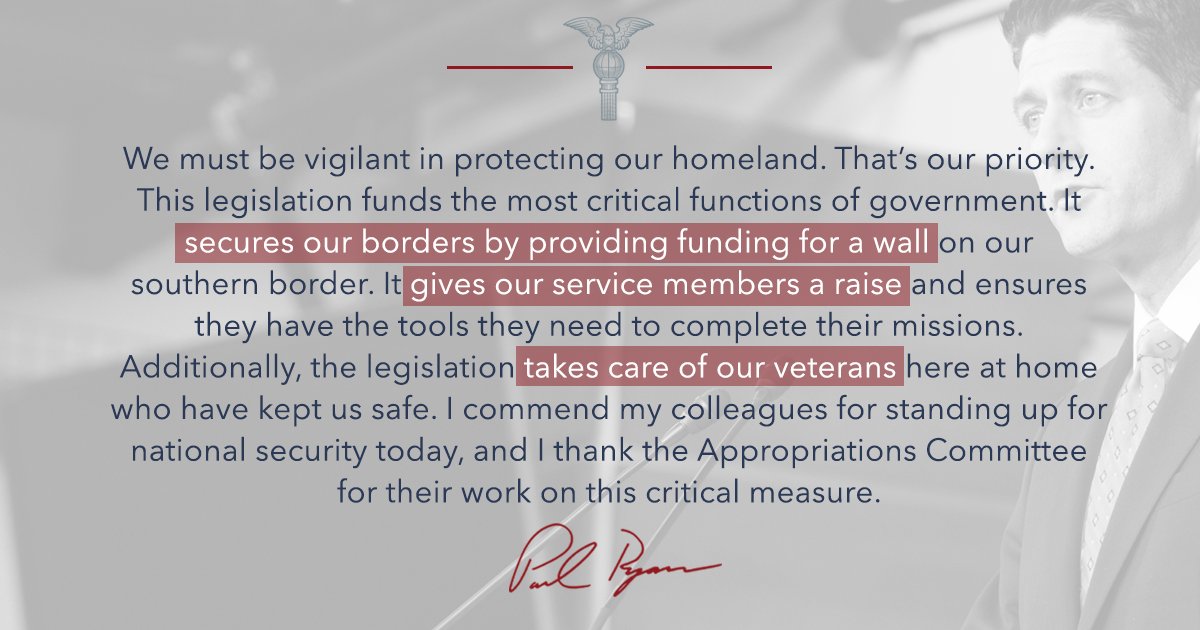 WASHINGTON

—House Speaker Paul Ryan (R-WI) issued the following statement on House passage of the national security appropriations minibus
Nine Things to Know about the Security 'Minibus'
July 26, 2017|Speaker Ryan Press Office
The purpose of our government is first and foremost to ensure the security of our nation. This week, the House will take up the appropriations package for national security priorities. It includes the appropriations bills for defense, military construction and veterans, energy and water, and the legislative branch.
Here are nine things you need to know about this legislation:
1. It fully funds President Trump's FY2018 $1.6 billion request for a wall along our southern border.
2. It gives our service members a much-deserved pay raise—the largest military pay raise in eight years.
3. It takes the next step in our efforts to rebuild our military with a substantial increase for the Department of Defense.
4. It pays for updated equipment and weapons so that our men and women serving abroad are fully prepared for the ever-evolving threats of modern warfare and defense.
5. It funds military infrastructure so that our service members can be safe and prepared.
6. It takes care of our vets by providing the highest level of funding—ever—for the Department of Veterans Affairs.
7. It deters and defends against attacks by increasing funds for the Department of Energy's nuclear weapons program.
8. It authorizes the EPA to withdraw from the Obama administration's disastrous Waters of the U.S. (WOTUS) rule.
9. It increases funding for our Capitol Police, who bravely protect members of Congress, their staff, and visitors to our nation's Capitol. This will increase security here at the Capitol and at home in our districts.