Conspiracy theories aside ... Interstate 11 is a done deal in Nevada.Reality in the making. Connecting Las Vegas and Phoenix on the north side of Arizona.
ViaLas Vegas Review Journal
'Breathtaking' view highlights coming interstate linking Las Vegas, Phoenix.
The first interstate linking Las Vegas and Phoenix will ease traffic congestion and offer a spectacular vista above Lake Mead, transportation officials promised Friday during a tour of ongoing construction."It's a breathtaking, panoramic view of one of the nation's largest man-made lakes," Nevada Department of Transportation spokesman Tony Illia said. The 15-mile stretch of Interstate 11, touted as Nevada's "largest infrastructure project," is expected to open by June 2018.
It will allow drivers to bypass Boulder City, a municipality of about 15,000 people.The trip will be about 30 minutes faster than taking U.S. Highway 93 through the city, and the southern route to Arizona will have a scenic overlook nestled inside the Eldorado Mountains.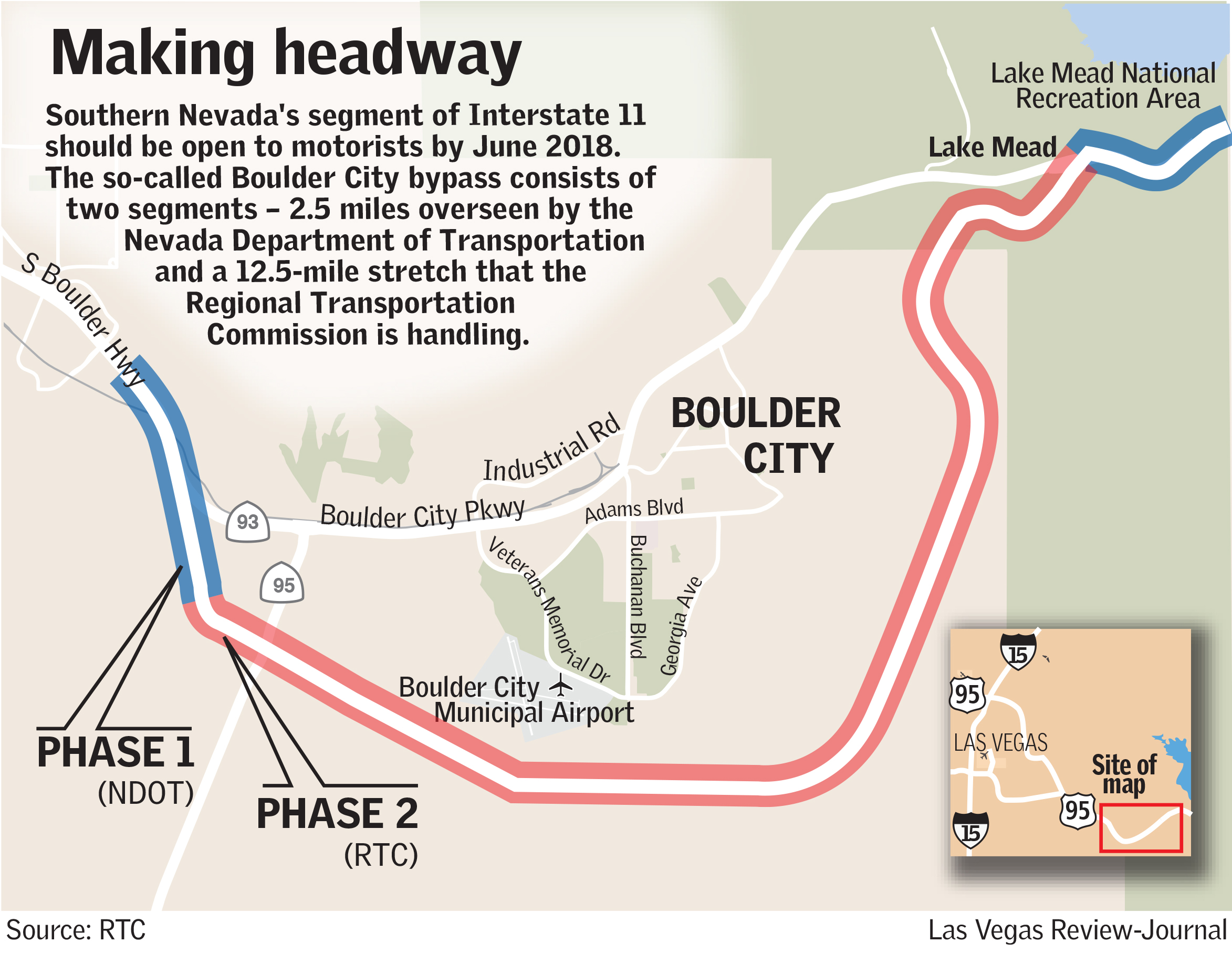 The Southern Nevada portion of the four-lane highway is expected to take as many as 34,000 vehicles a day on a U-shaped bypass south of Boulder City. The route will begin near Henderson's southern border and end by the O'Callaghan-Tillman Memorial Bridge downstream from Hoover Dam"A lot of the vehicles we see going through right now are freight," Regional Transportation Commission spokeswoman Monika Bertaki said.
I-11 "would actually allow all of the freight to not go through the small town streets and bottleneck up."
When Arizona finishes its portion of I-11, the highway will become the first interstate to connect Las Vegas and Phoenix, the only two neighboring U.S. metropolitan areas with populations of more than 1 million that do not have a connecting interstate.
On a grander scale, I-11 will eventually establish a new trade route between Canada and Mexico by way of Idaho, Arizona and Nevada.
The $318 million project is being funded with a combination of state and federal monies, as well as local fuel-tax revenue. It is expected to create 4,000 jobs.