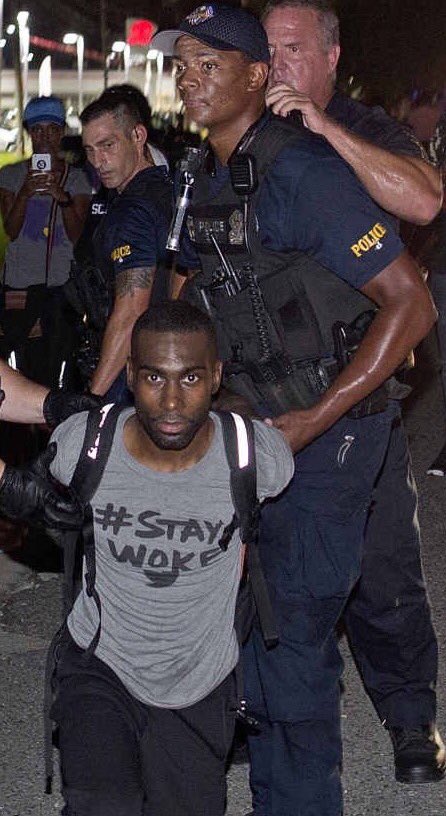 DeRay McKesson
was a lead full-time paid protester in Ferguson, Missouri during the riots and looting. He later was became a lead activist in Baltimore during the Freddie Gray riots.

DeRay McKesson and the other Ferguson and Baltimore protest leaders were

trained in Soros-funded agitation

. On Saturday DeRay was arrested in Baton Rouge leading other protesters in illegal activities.
Civil rights activist and former Baltimore mayoral candidate DeRay Mckesson will return to his old stamping grounds at city school headquarters to lead the district's office of human capital.
Mckesson was named interim chief human capital officer on Tuesday by incoming schools CEO Sonja Santelises. It was the second and most high-profile cabinet appointment made by the new chief, who begins her tenure Friday.
Santelises said Mckesson, who spent about two and a half years overseeing key reforms as a strategist and special assistant in the human capital office, would lead the office at least through the fall.
"He has the depth of knowledge of the system, and he has proved that he can lift the work in a short amount of time," Santelises said in an interview. "And he has proven his dedication to the children of Baltimore."
Mckesson called Santelises a "gifted leader" and said he was proud to join her team…
…The 30-year-old Baltimore native and Black Lives Matter activist is fresh from an unexpected run for mayor of Baltimore. He finished sixth in the Democratic primary.
Mckesson catapulted onto the national media stage nearly two years ago when he took a leave of absence from his job as senior director of human capital in the Minneapolis Public Schools system to protest the shooting death of 18-year-old Michael Brown in Ferguson, Mo.
Mckesson founded and leads We the Protesters, a group that advocates policy changes against police violence.
Mckesson, who will earn a salary of $165,000, will be the district's third chief of human capital in two years, and manage of a budget of $4 million and 56 employees.