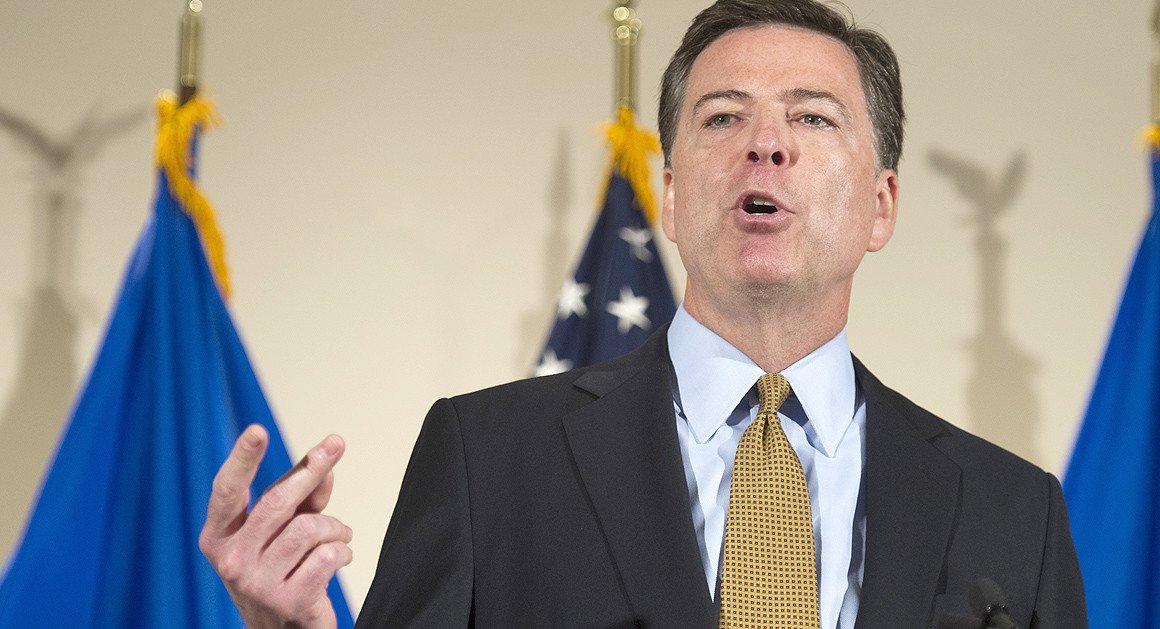 FBI Director James Comey will testify on Capitol Hill Thursday regarding the bureau's investigation of Hillary Clinton's email practices, part of a concerted GOP effort to keep the heat on Clinton heading into the party conventions and a long congressional recess.
Comey will appear before the Oversight Committee at 10 a.m., House Oversight Committee Chairman Jason Chaffetz (R-Utah) said on Wednesday morning. The hearing will be just two days after Comey's stunning repudiation of Clinton's "extremely careless" practice of using a private email server to send classified information during her tenure as secretary of State. Comey did not recommend charges be filed against her, stoking GOP outrage and propelling congressional leaders like Chaffetz to seek more information.
Chaffetz's Senate counterpart, Homeland Security and Governmental Affairs Committee Chairman Ron Johnson (R-Wis.), demanded a written explanation of Comey's decision-making on Wednesday. And House Judiciary Chairman Bob Goodlatte (R-Va.) said that Attorney General Loretta Lynch will testify next Tuesday before his panel about Clinton's email practices, as well as Bill Clinton's private meeting with Lynch in late June.
The flurry of action highlights the GOP's exasperation over Comey's decision not to recommend an indictment despite his harsh words for Clinton. Republicans said the decision feeds the public perception that the Clintons are not held to the same standard as other Americans, and the GOP is set to use the matter as a electoral cudgel over the next four months.
Chaffetz called it "surprising and confusing" that Comey did not recommend an indictment; the FBI chief's criticism, in Chaffetz's view, "makes clear Secretary Clinton violated the law."
"Congress and the American people have a right to understand the depth and breadth of the FBI's investigation," Chaffetz said in a statement announcing that Comey had agreed to his request.
Across the Capitol, Johnson announced in a
letter
to Comey that his committee is continuing to investigate Clinton's email use. Johnson asked that Comey describe the cost and scope of the investigation of Clinton and further explain his decision-making process.
"You determined that Secretary Clinton's 'handling of very sensitive, highly classified information' was 'extremely careless.' However, you found that the actions of Secretary Clinton did not lead to a recommendation to pursue criminal charges, including charges under the 'gross negligence' standard ... What is the difference, in the FBI's view, between extreme carelessness and gross negligence?" asked Johnson in the letter. "What set of facts would cause the FBI to recommend criminal charges under the gross negligence standard?"
Meanwhile, Goodlatte will focus on Lynch, who was rebuked by members of both parties for speaking at length with Bill Clinton on an airport tarmac in Arizona last week.
The interaction, which Lynch later admitted was a mistake, handed the GOP more ammunition surrounding the Justice Department's investigation of Hillary Clinton.
"It is uniquely troubling in light of Attorney General Lynch's secret meeting with former President Bill Clinton. No one is above the law and the American people need to know that federal law enforcement is taking this misconduct seriously," Goodlatte said.
Other Republicans want to go even further, with several GOP lawmakers calling on Wednesay for a special prosecutor to investigate Hillary Clinton.
First Published on Politico