U.S. to Lift Arms Embargo on Vietnam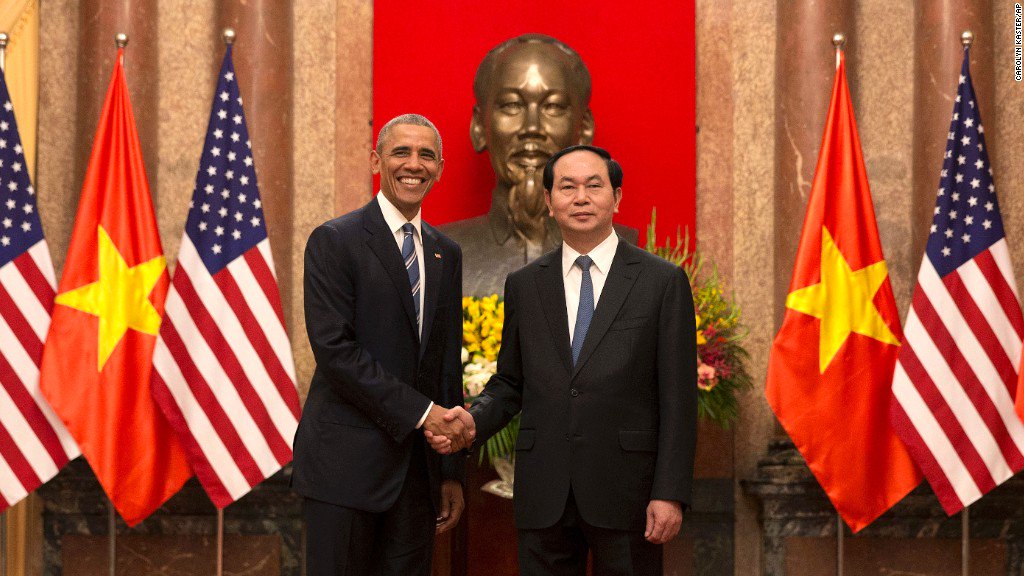 The United States will fully lift an arms embargo on Vietnam that has been in place since 1975, U.S. President Barack Obama

announced (

WaPo

)

on a visit to Hanoi. Speaking at a news conference with President Tran Dai Quang, Obama said the decision aimed "based on our desire to complete what has been a lengthy process of moving towards normalization with Vietnam." He also said that the two countries share concerns over

Chinese provocations in the region

. On Tuesday, Obama will meet with business and civil society leaders in Hanoi and give a speech on U.S.-Vietnam relations, before traveling to Ho Chi Minh city. A Chinese foreign ministry

spokeswoman said (SCMP)

the country welcomed a "normal and friendly" relationship between the United States and Vietnam. But a state news editorial warned that rapprochement should not be used to "threaten or even damage the

strategic interests of a third country (Xinhua)

."
"For the White House, the decision on lifting the embargo has come down to a debate over trying to improve Vietnam's poor human rights record versus enabling Vietnam to better defend itself against an increasing threat from China in the South China Sea. Washington has for years made lifting the ban contingent on Vietnam's improving human rights for its people, and has prodded Vietnam to allow more freedom of speech and to release political prisoners. But as tensions with China have escalated in the South China Sea, the sentiment in the Obama administration has

shifted toward lifting the ban

, American officials familiar with the discussions said. Vietnam's government, pressed by an ever more powerful China, knows it cannot stand up to Beijing alone and is cautiously moving toward increased ties with the United States," Jane Perlez writes for the

New York Times.
"Vietnam remains one of the biggest jailers of journalists in the world, and the country is run by a one-party regime that engineered a change in leadership earlier this year in an opaque manner, with virtually no public input. When independent candidates—i.e., men and women who did not belong to the Communist Party—tried to run in elections earlier this year for the National Assembly, which is a rubber stamp legislature, the government prevented most of them from even running. Still, as I have noted before, Vietnam's

enormous strategic importance

makes it worthy of a closer defense relationship with the United States, including arms sales. Unlike neighboring states such as Thailand, Myanmar, the Philippines, or Cambodia, Vietnam has a highly professional military and is relatively stable, if authoritarian," CFR's Joshua Kurlantzick writes in this blog post.
"Vietnam has emerged as a country increasingly central to U.S. strategy in the Asia-Pacific in spite of the

lingering challenges inherent

in the two-decade old diplomatic relationship. Economically, for instance, Hanoi is one of just four Southeast Asian countries that is party to the U.S.-led Trans-Pacific Partnership (TPP) and is an important partner in ongoing U.S. regional initiatives as well such as the Lower Mekong Initiative (LMI). And on defense, Vietnam, a frontline state in the South China Sea disputes, has not only been a member of key U.S. initiatives like the Southeast Asia Maritime Security Initiative (MSI), but has worked with Washington to enhance its contributions to global security in fields like peacekeeping," Prashanth Parameswaran writes for the

Diplomat.