Pro-Immigration Pope Lives in Vatican City With Strictest Immigration Policies in the World– AND A WALL SURROUNDS THE ENTIRE CITY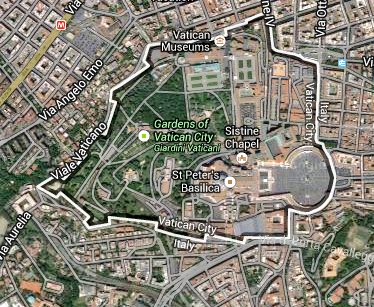 The Pope needs to be practice what he preaches, if he believes the USA should open their arms to illegals and not protect it's borders, the same can be said of the Vatican,
"A person who thinks only about building walls, wherever they may be, and not of building bridges, is not Christian. This is not the gospel," the Pope said.
The Vatican, for its part, welcomes millions of visitors a year — but allows only a very select few, who meet strict criteria, to be admitted as residents or citizens.
Only about 450 of its 800 or so residents actually hold citizenship, according to a 2012 study by the Library of Congress. That study said citizens are either church cardinals who reside in the Vatican, the Holy See's diplomats around the world, and those who have to reside in the city because of their jobs, such as the Swiss Guard.
Spouses and children who live in the city because of their relationship with citizens — including the Swiss Guard and workers such as the gardener — can also be granted citizenship. But that means few of the Vatican's citizens are women.