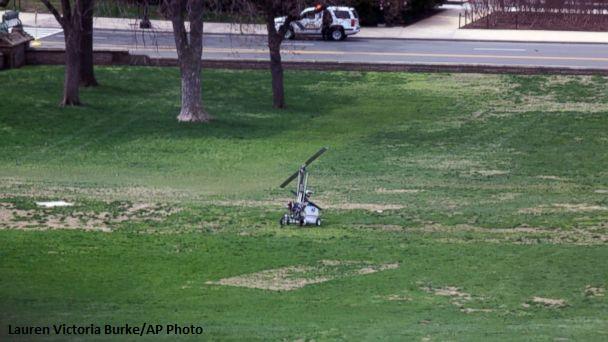 Via
CBS News
Florida resident Doug Hughes flew his gyrocopter to Washington, D.C. and landed it on the west front lawn of the Capitol building on Wednesday.
He reportedly flew the contraption to Washington to compel lawmakers to pay attention to the issue of campaign finance reform. So far, his stunt has drawn the attention of Capitol Police, who responded to the scene and apprehended Hughes. The Capitol Police bomb squad promptly started investigating the scene.
"The U.S. Capitol Police continues to investigate with one person detained and temporary street closures in the immediate area," the Capitol Police said in a statement.
Hughes, who works as a mailman, drove his gyrocopter from Florida to an area outside of Washington last week,
according to the Tampa Bay Times
. He apparently made the short flight to Washington with 535 two-page letters, one for each member of Congress.
"I'm demanding reform and declaring a voter's rebellion in a manner consistent with Jefferson's description of rights in the Declaration of Independence," Hughes wrote in the letters. "As a member of Congress, you have three options. 1. You may pretend corruption does not exist. 2. You may pretend to oppose corruption while you sabotage reform. 3. You may actively participate in real reform."