Senator. John McCain on Saturday stood before the crowd at the Arizona Republican Party's annual state committeemen meeting where he was censured in 2014. This year, his critics booed his remarks, but other cheered.
https://twitter.com/SenJohnMcCain
Great to speak
@
AZGOP
Convention today in
#
Tempe
- big difference from last year!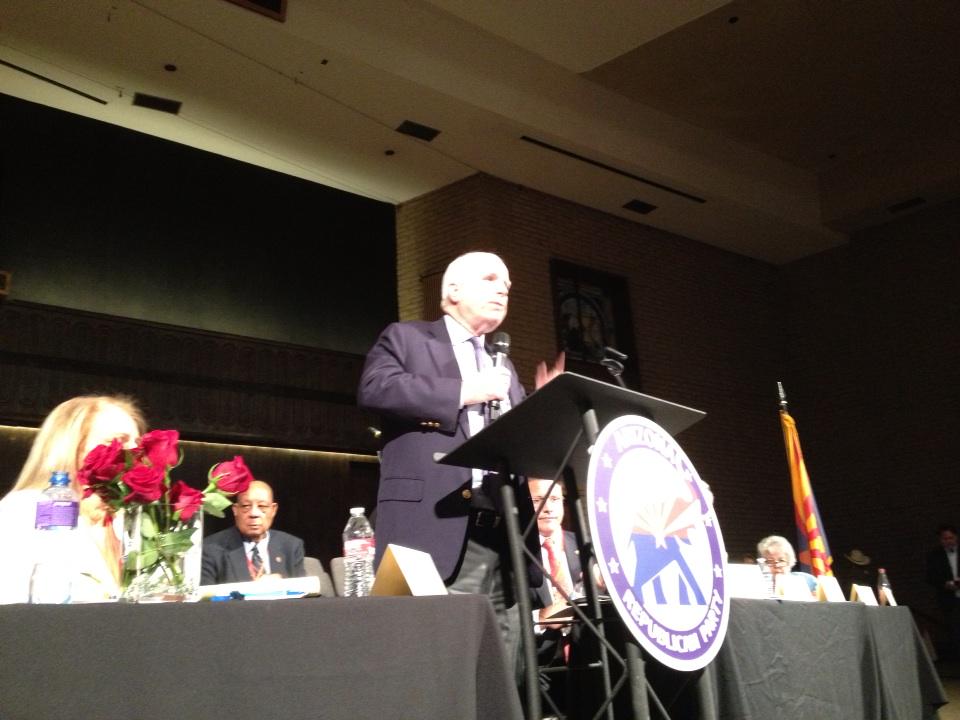 Via AZ Central
U.S. Sen. John McCain on Saturday delivered a fiery speech on foreign policy in the face of many of his conservative critics at the Arizona Republican Party's state meeting, earning a noisy mix of boos and cheers at the same annual gathering where in 2014 he was censured in absentia for being too liberal on issues such as immigration reform.
"It was only a handful of people who were negative," McCain, R-Ariz., told The Arizona Republic after he spoke. "That's far different from what it would have been last year."
McCain, who has not yet announced that he is running for re-election in 2016 but is widely expected to do so, was met by a raucous combination of boos and catcalls from detractors and applause and yells from his fans and allies and it was difficult to hear him over the din. About 12 people in the audience stood with their backs to McCain for the entirety of his nearly 10-minute remarks.
Others gave McCain repeated standing ovations. More at:
AZ Central
Sen. John McCain is greeted with cheers and signs from Vietnamese outside the AZ State Republican Committee Statutory Meeting at Grace Community Church in Tempe,