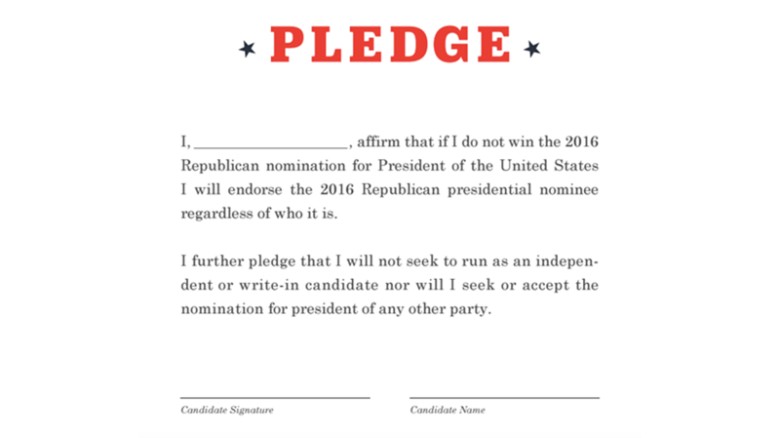 Washington (CNN)Donald Trump will meet with Republican Party chairman Reince Priebus Thursday in New York City, one day after party officials began circulating a loyalty pledge that looked squarely aimed at the Republican front-runner.
Trump spokeswoman Hope Hicks confirmed the meeting to CNN. Trump also announced that he will have a 2 p.m. news conference at Trump Towers Thursday.
According to sources familiar with the discussions, all signs indicate that Trump will sign a pledge to support the Republican nominee if he loses, and not run as an independent.
However, sources caution that until the meeting happens, no one can be sure exactly what the outcome will be, since Trump is his own adviser and has a history of being unpredictable.
The Republican National Committee had quietly circulated a loyalty pledge to the Republican presidential candidates, requesting they affirm their allegiance to the party.
The pledge seems it is likely aimed at pressuring Trump, who has so far refused to rule out a third-party bid if he does not win the Republican nomination.
A copy of the pledge, obtained by
CNN
Wednesday, states "I, _______, affirm that if I do not win the 2016 Republican nomination for President of the United States I will endorse the 2016 Republican presidential nominee, regardless of who it is."
It continues: "I further pledge that I will not seek to run as an independent or write-in candidate nor will I seek to accept the nomination for president of any other party."