Good Lord another Republican planning on running in 2016 Presidential race. It's now at 14 and with Gilmore and 2 others in the wings it will be 17. We need to set up a viewing stand with betting windows. It's bigger than the Preakness. The Preakness,had a field of eight.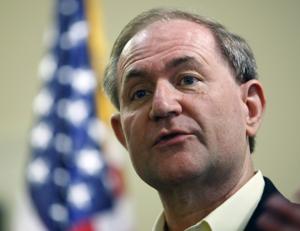 Former Gov. Jim Gilmore says he is running for president and plans a formal announcement in the first week of August.
Gilmore, 65, Virginia's governor from 1998 to 2002, broke the news late Tuesday in an exclusive telephone interview with the Richmond Times-Dispatch.
He said he does not think any other Republican candidates have addressed what he considers the vital national security and economic concerns facing the nation.
"I don't think we're addressing the threat to the country," Gilmore said. He added: "I bring to the table experience that others don't have."
Gilmore, a former U.S. Army intelligence officer, was governor during the 9/11 attack on the Pentagon. He later headed the Gilmore Commission, a congressional panel that advised Presidents Bill Clinton and George W. Bush on domestic capabilities for terrorism involving weapons of mass destruction.