U.S. snubs Pakistan with new drone strikes in Waziristan
---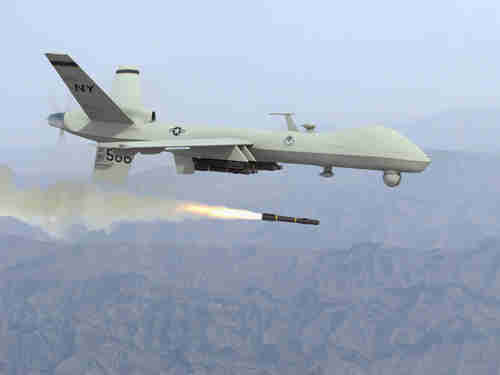 Drone strike
It was just two days ago that the brand new prime minister of Pakistan, Nawaz Sharif, said that the U.S. must call off its drone campaign:
"We respect the sovereignty of others and they should respect our sovereignty and independence. This campaign must come to an end now."
He has also criticized the drone strike that killed Waliur Rehman, the second in command in Tehrik-e-Taliban Pakistan (TTP), the Pakistan Taliban, two weeks ago.
On Friday, the U.S. apparently snubbed Sharif's call by launching a drone that fired two missiles at suspected militants in Waziristan in Pakistan's tribal region, killing seven and injuring three others. The new drone strike is sure to become a major political issue in Pakistan, and widen an existing fault line between the politicians, who oppose the drone strikes, and the Pakistan intelligence agencies, which favor them.
Tribune (Pakistan)
and
VOA